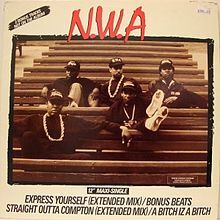 "Express Yourself" is a song by N.W.A that was performed solo by Dr. Dre. The song samples the song of the same name by Charles Wright & the Watts 103rd Street Rhythm Band. Unlike the majority of the album's and N.W.A songs, this one is free of profanity and violence. In May 1990, Triple J, a music radio station owned by the Australian Broadcasting Corporation, stunted by playing "Express Yourself" 82 times in a row until an employee was reinstated. At the launch of its new service in April 2014, Triple J paid tribute to the event with another loop of the song. J. Double J. The video for N.W.A's song "I Have a Dream" is the band's first appearance on YouTube in over a year.
The original version of the video, which was uploaded to the band's VEVO channel, had several parts blurred out but the complete uncensored video can still be found online. In the new version, Dr. Dre is shown being executed in an electric chair and King's famous "I have a dream" quote appears on a large sign.
"Express Yourself" can be heard on the in-game radio station Radio Los Santos in the video games Tony Hawk's Pro Skater 4, EA's Skate, and Grand Theft Auto: San Andreas, The samples are also used in the song: On their 1996 covers album Salam, agur, the Basque band Negu Gorriak included a Basque language version titled "Adieraz zaitez" Rammstein sampled the intro in their 1997 album Sehnsucht's song "Klavier" Silkk the Shocker covered the song for the N.W.A tribute album Straight Outta Compton in 1998.